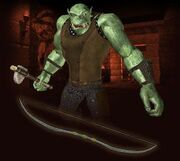 .
EverQuest II Named Monster Information
Zone (Patch)
Multiple (see below) (LU100)
Race
Orc
Level
105▲ Tier 11 Solo
Location
In a cave on the east end of Timberlands in the north wall ( -481, -47, -111 ) 

/waypoint -480.90, -46.98, -111.12

 
Reported Drops
none reported, try LootDB.
AA Exp
y
Status Points
unknown
What does this information mean?
Found in all versions of Zek, the Scourge Wastes: