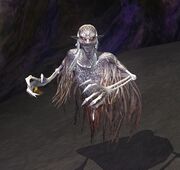 .
What does this information mean?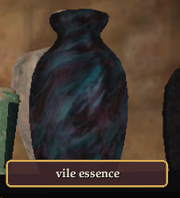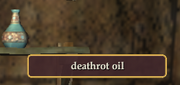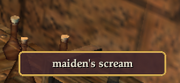 YallessulichEdit
To spawn Yallessulich, you will need to collect several ingredients.

Vile Essence (SW tower, top floor) in Old Deathfist Stockpile ( 19, 17, 28 ) 

/waypoint 19, 17, 28

.
Phylactery (nearby in Lich's Brew) ( -22, 8, 29 ) 

/waypoint -22, 8, 29

.
Deathrot Oil (The Depleted Armory) ( -8, 1, 22 ) 

/waypoint -8, 1, 22

.
Blood Sap (the arrow piercing the orc on tree outside the keep) ( 139, -12, 138 ) 

/waypoint 139, -12, 138

Maiden's Scream (across from cauldron) ( -16, 9, 41 ) 

/waypoint -16, 9, 41

is not needed for the recipe, but may be used during the fight.

Once you have all the materials, put Maiden's Scream on a hotbar for use during the fight, then click the cauldron.
Yallessulich spawns above the cauldron, you must to pull him away from the cauldron to damage him.
Yallessulich spawns an add every 20 seconds or so, which is inactive for 5 seconds, then launches a high-damage probably one-shot-kill attack.

An orange text appears with the first add telling you to use your Maiden's Scream to stop the add attacking, but after that you have to watch for new adds.

Yallessulich creates a fog that slows down your casting. Pull him away from the fog and stay out of the fog yourself.
Ad blocker interference detected!
Wikia is a free-to-use site that makes money from advertising. We have a modified experience for viewers using ad blockers

Wikia is not accessible if you've made further modifications. Remove the custom ad blocker rule(s) and the page will load as expected.