Ad blocker interference detected!
Wikia is a free-to-use site that makes money from advertising. We have a modified experience for viewers using ad blockers

Wikia is not accessible if you've made further modifications. Remove the custom ad blocker rule(s) and the page will load as expected.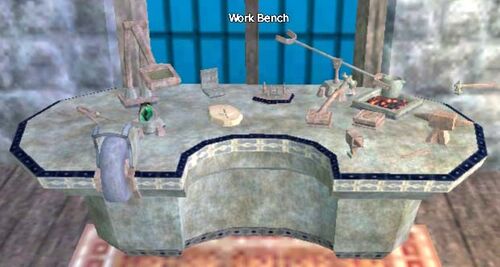 Workbenches are used by Jewelers, Tinkerers, Transmuters and Carpenters. In addition to each of the traditional tradeskill zones, free-standing workbenches can be found in the following locations:
East Freeport: Trader's Holiday ( -122, -38, 15 ) 

/waypoint -122, -38, 15

West Freeport: Coalition Crafter's Association (the outdoor crafting area) at ( 23, -12, 96 ) 

/waypoint 23, -12, 96

.
Gorowyn/Timorous Deep
Edit
New Foreign Quarter: ( 106, 22, 84 ) 

/waypoint 106, 22, 84

 
Neriak Down Under: ( -182, -2, 290 ) 

/waypoint -182, -2, 290

and ( -180, -4, 255 ) 

/waypoint -180, -4, 255
Other Zones
Edit