Ad blocker interference detected!
Wikia is a free-to-use site that makes money from advertising. We have a modified experience for viewers using ad blockers

Wikia is not accessible if you've made further modifications. Remove the custom ad blocker rule(s) and the page will load as expected.
In-Game Examine Window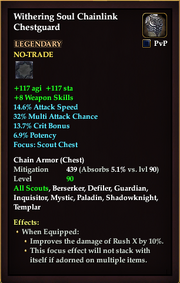 Withering Soul Chainlink Chestguard

LEGENDARY
NO   TRADE

+117 agi

+117 sta


+8 Weapon Skills
14.6% Attack Speed
32% Multi Attack Chance
13.7% Crit Bonus
6.9% Potency
Focus: Scout Chest
 
Chain Armor (Chest)
Mitigation
439
Level
90 (Tier 10)
All Scouts, Berserker, Defiler, Gaurdian, Inquisitor, Mystic, Paladin, Shadowknight, Templar
 
Obtain: Reward from the quest "Around Their Necks."
What does this information mean?