Ad blocker interference detected!
Wikia is a free-to-use site that makes money from advertising. We have a modified experience for viewers using ad blockers

Wikia is not accessible if you've made further modifications. Remove the custom ad blocker rule(s) and the page will load as expected.
In-Game Examine Window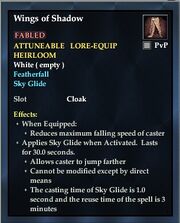 Wings of Shadow

FABLED
ATTUNEABLE   LORE-EQUIP   HEIRLOOM
Featherfall
Sky Glide
 
Slot
Cloak
 
Effects:


When Equipped:

Reduces maximum falling speed of caster

Applies Sky Glide when Activated. Lasts for 30.0 seconds

Allows caster to jump further
Cannot be modified except by direct means
The casting time of Sky Glide is 1.0 seconds and the reuse time of the spell is 2 minutes
Obtain:This item is a EQII Legends of Norrath Loot Card /claim reward.
\aITEM 997105098 109509503:Wings of Shadow\/a \aITEM 997105098 109509503:Wings of Shadow\/a
What does this information mean?
related Lon Pack is Against the Void booster packs