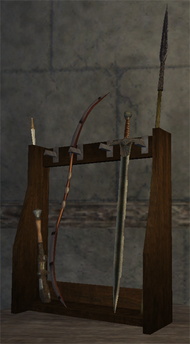 If you are not familiar with weapon racks, you may want to read about the general topic of sales displays that can be placed in player housing.
All weapon racks are Master Crafted (made from a rare material) by those who take up the Carpenter tradeskill.
This sales display holds a limited scope of items that are typically made by Weaponsmiths and Woodworkers like weapons, bows and ammunition.
Ad blocker interference detected!
Wikia is a free-to-use site that makes money from advertising. We have a modified experience for viewers using ad blockers

Wikia is not accessible if you've made further modifications. Remove the custom ad blocker rule(s) and the page will load as expected.