Ad blocker interference detected!
Wikia is a free-to-use site that makes money from advertising. We have a modified experience for viewers using ad blockers

Wikia is not accessible if you've made further modifications. Remove the custom ad blocker rule(s) and the page will load as expected.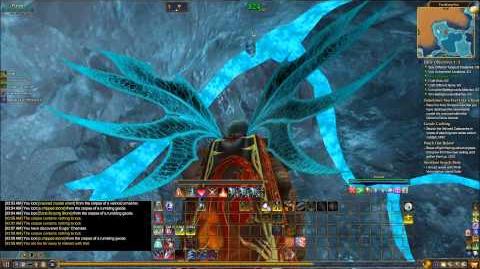 The information below has been verified with in-game data and the information on this page is correct, even if it looks stupid or makes no sense.
---
Fact: This quest is repeatable but it is debated as to how many times the quest can be repeated.
What does this information mean?
This is an unlimited repeatable quest
You must have completed Ry'Gorr Mining Operations from Thirin Veliumdelver to begin this quest.
Travel down to the Velinoid Catacombs and break off 5 glimmering velium crystals that grow from the cave ceiling. Stand on Big Rock at ( -88, -33, 24 ) 

/waypoint -87.64, -32.88, 23.79

Look up and click on crystal extending out of the ceiling. Once clicked you'll throw a hammer to knock crystal down. Jump down to fallen crystal and harvest for update. Be sure not to knock down multiple crystals at once, otherwise when you harvest the first one. they will all disappear.

No real need to stand on the rock, just be close under it on the ground level, there are several in this room.

Return to Odon Scourgeson
At least

12s

 

4c

Land Of the Follower