In-Game Examine Window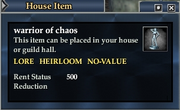 EverQuest II Item Information
Type: House Item
Subtype: Sculpture

warrior of chaos

This item can be placed in your house or guild hall.
 
LORE  HEIRLOOM  NO-VALUE
Rent Status
Reduction
500

Obtain: Promotional item, received if you logged in between Feb 16 and Feb 18 2010. Use /claim to claim.
What does this information mean?