In-Game Examine Window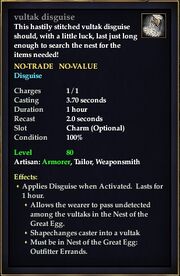 Vultak disguise
This hastily stitched vultak disguise should, with a little luck, last just long enough to search the nest for the items needed!

NO-TRADE    NO-VALUE
Disguise
 
Charges
1/1
Casting
3.70
Duration
1 hour
Recast
2.0
Slot
Charm (Optional)
Level
80 (Tier 9)
Artisan: Armorer, Tailor, Weaponsmith
 
Effects:


Applies Disguise when Activated. Lasts for 1 hour.

Allows the wearer to pass undetected among the vultaks in the Nest of the Great Egg.
Shapechanges caster into a vultak
Must be in Nest of the Great Egg: Outfitter Errands.
Obtain: Outfitter-crafted using a level 80 recipe from Vultak Anatomy: An Illustrated Guide.
\aITEM -477657301 636071482:vultak disguise\/a \aITEM -477657301 636071482:vultak disguise\/a
What does this information mean?
Ad blocker interference detected!
Wikia is a free-to-use site that makes money from advertising. We have a modified experience for viewers using ad blockers

Wikia is not accessible if you've made further modifications. Remove the custom ad blocker rule(s) and the page will load as expected.