The Item, Location, Quest, Mob or NPC referred to by this page has been removed from EverQuest II.
This article is being retained for historical reasons
This quest was originally part of the world event heralding the arrival of Rodcet Nife
What does this information mean?

This quest is repeatable.
Receive the holy Aab'I Hayat and the Acumen Occultation Instrument from the Seeress.
Use this potion on 9 tempest affected creatures found under the Void-Storms across Norath.
Return to Seeress Ealaynya Ithis to get a Concordium Note of Appreciation.
Concordium Notes of Appreciation can be turned in to Mage Fulcrum Gearshift at the Concordium Tower in South Qeynos for a variety of items ranging in price from 1 to 5 Notes:
House Items (Furniture)
Edit
A set of silvery plate armor.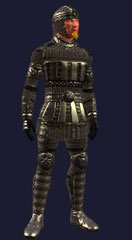 A set of black chain armor.
A set of dark leather armor with protective metal plates.
These armor items fulfill a frequent request by EQ2 players to have "invisible" appearance armor. Equipping these items will result in a nude or "empty" appearance in the appropriate slot.
Cloaks & Robes
Edit
Sometimes ornamental, sometimes whimsical, but otherwise useful weapons.
Charm Slot Items
Edit
Miscellaneous
Edit
Ad blocker interference detected!
Wikia is a free-to-use site that makes money from advertising. We have a modified experience for viewers using ad blockers

Wikia is not accessible if you've made further modifications. Remove the custom ad blocker rule(s) and the page will load as expected.