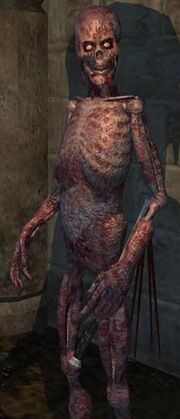 .
What does this information mean?
Position your group AWAY from the pool and have them stand in a tight group but NOT in a corner.
Have one of your group members poor the potion in the pool located at ( 62, 209, 5 ) 

/waypoint 62, 209, 5

then step away from the pool.
After a few minutes Vethilot the Young will walk down the hall and enter the pool. When he does he will be transformed into Vethilot the Corpsemonger and become attackable.
As you fight him Skeletons will spawn, depending on your gear you can ignore them and let your AOE's kill them, mez them or attack and kill them as they spawn.
When you kill them you have 5 seconds to double click on their bodies to destroy them or Vethilot the Corpsemonger will warp to the body and begin to buff himself. If he gets to many buffs you will not be able to kill him. This is why you do not want to be in a corner or in the pool when you fight him as it will make destroying the bodies very difficult. He will also suck buffs from any group members that die so ensure no one dies. Every dead body he is able to suck from adds another buff of Corpsemongering to his list of buffs and they will keep stacking.

When adding strategy information, please follow the Strategies Policy. -->