Ad blocker interference detected!
Wikia is a free-to-use site that makes money from advertising. We have a modified experience for viewers using ad blockers

Wikia is not accessible if you've made further modifications. Remove the custom ad blocker rule(s) and the page will load as expected.
In-Game Examine Window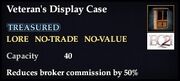 EverQuest II Item Information
\aITEM 1865448438 537096261:[Veteran's Display Case]\/a \aITEM 1865448438 537096261:[Veteran's Display Case]\/a
What does this information mean?
For info on how to get the best use out of this Sales Display and how to place it in your house, see the article about the broker.
This item can be used to sell to other players from your house, giving you an edge over other players with goods listed for sale. This is because it reduces the price items are listed at on the broker.
If a player from the city you live in does not come to your home, the broker fee is (reduced) to 10% if they live in another city it is (reduced) to 20%.
In addition, if buyers visit your house to make a purchase, they will not pay any broker markup fees. The typical markup fees are 20% in for items sold in cities you live in and 40% other cities.