Ad blocker interference detected!
Wikia is a free-to-use site that makes money from advertising. We have a modified experience for viewers using ad blockers

Wikia is not accessible if you've made further modifications. Remove the custom ad blocker rule(s) and the page will load as expected.
In-Game Examine Window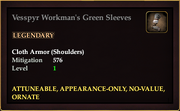 Vesspyr Workman's Green Sleeves
This item is ceremonial in nature and will not offer any protection to the wearer if worn in combat. Any person can wear this item regardless of their profession.

LEGENDARY
ATTUNEABLE,   APPEARANCE-ONLY   ORNATE
 
Cloth Armor (Shoulders)
Mitigation
171
Level
1 (Tier 1)
 
Obtain: Reward from the collection quest, Harmony in Stone.
What does this information mean?