In-Game Examine Window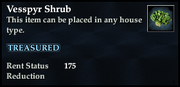 EverQuest II Item Information
\aITEM 1847956380 -1947429132:Vesspyr Shrub\/a \aITEM 1847956380 -1947429132:Vesspyr Shrub\/a
What does this information mean?
This can be gathered before, during the Captain Overboard? quest, or after. See the quest page for possible locations.
It is found on the the Aeterna Gardens island.
Like all other willows from the Vesspyr Isles, the gathered tree can spawn in one of several locations around the isle.
The respawn timer is rather long, so moving around the island to find more is most efficient approach.
Trees that Can Be Gathered
Edit
The following trees can also be gathered from the isles:
Ad blocker interference detected!
Wikia is a free-to-use site that makes money from advertising. We have a modified experience for viewers using ad blockers

Wikia is not accessible if you've made further modifications. Remove the custom ad blocker rule(s) and the page will load as expected.