In-Game Examine Window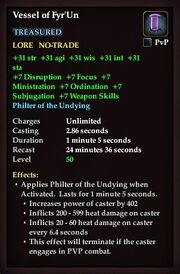 Vessel of Fyr'Un

TREASURED
LORE  NO-TRADE

+18 wis

+19 int

+20 sta


+6 Focus
+6 Weapon Skills
0.8% Crit Bonus
0.9%  Potency

Philter of the Undying
 
Slot
Charm
Level
50 (Tier 6)
 
Effects:


Applies Philter of the Undying when Activated. Lasts for 1 min 5 secs.

Increases power of caster by 402
Inflicts 200-599 heat damage on caster
Inflicts 20-60 heat damage on caster every 6.4 seconds.
This effect will terminate if the caster engages in PVP combat
The casting time of Philter of the Undying is 2.94 seconds and the reuse time of the spell is 30 minutes.
Obtain: Reward from the quest "The Vessel of Fyr'Un" in The Living Tombs.
What does this information mean?
The vessel must be equipped in order to use the clickie effect. Recast is about 30 minutes.
Update: May 22, 2013
This version of the charm seems to be broken; the clickie effect does not work. However, once upgraded during the follow-on quest, it works fine.
Ad blocker interference detected!
Wikia is a free-to-use site that makes money from advertising. We have a modified experience for viewers using ad blockers

Wikia is not accessible if you've made further modifications. Remove the custom ad blocker rule(s) and the page will load as expected.