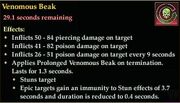 EQ2: Monster Spell Information
| | |
| --- | --- |
|  Casting Time |  Instant |
|  Recast time |  Instant |
|  Duration |  30 |
Inflicts 50-84 piercing damage on target
Inflicts 42-82 poison damage on target
Inflicts 26-52 poison damage on target every 4 seconds
Applies Prolonged Venomous Beak on termination. Lasts for 1.3 seconds.

Stuns target
Epic targets gain an immunity to Stun effects of 3.7 seconds and duration is reduced to 0.4 seconds.
What does this information mean?