Ad blocker interference detected!
Wikia is a free-to-use site that makes money from advertising. We have a modified experience for viewers using ad blockers

Wikia is not accessible if you've made further modifications. Remove the custom ad blocker rule(s) and the page will load as expected.
In-Game Examine Window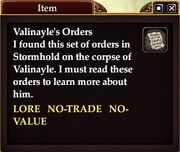 EverQuest II Item Information
Valinayle's Orders

I found this set of orders in Stormhold on the corpse of Valinayle. I must read these orders to learn more about him.
 
 
LORE  NO-TRADE  NO-VALUE
Obtain: [How can I get one?] try LootDB or the linkback
\aITEM 966637375 1151959267:Valinayle's Orders\/a \aITEM 966637375 1151959267:Valinayle's Orders\/a
What does this information mean?
The following text is displayed when examined.
Squire Valinayle,
Scout Martok has broken the string on his bow again. Take the bow and go get it restrung. Valinayle, I swear if you slack off on this assignment you won't even be alive to laze around and avoid your duties!
--Captain Vincent
Put away.