In-Game Examine Window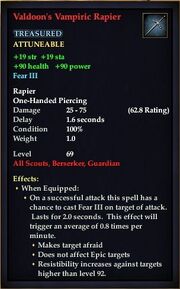 Valdoon's Vampiric Rapier

TREASURED
ATTUNEABLE

+19 str

+19 sta




+90 health

+90 power



Fear III
 
Rapier
One-Handed Piercing
Damage
25-75                  (62.8 Rating)
Delay
1.6 seconds
Level
69 (Tier 7)
All Scouts, Berserker, Guardian
 
Effects:


When Equipped:

On a successful attack this spell has a chance to cast Fear III on target of attack. Lasts for 2.0 seconds. This effect will trigger an average of 0.8 times per minute.

Makes target afraid
Does not affect Epic targets
Resistibility increases against targets higher than level 92.
Obtain: From Count Valdoon Kel'Novar in Crypt of Valdoon.
What does this information mean?