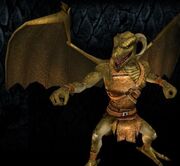 .
EverQuest II Named Monster Information
Zone (Patch)
Dracur Prime (Shattered Lands)
Race
Droag
Level
98▲▲▲ Tier 10 Heroic , (Approx. HP: 40,000,000)
Location
Dracur Prime
Reported Drops
Melee Attacks
Crush/Burn
Special Attacks

Spontaneous Combustion (Heat)
Cataclysmic Catalyst (Heat)
Devouring Breath of Embers (Heat)
Ruin (Crushing/Heat)
Elemental Sundering (Heat)

AA Exp
Yes
Status Points
unknown
What does this information mean?
Valagas (Fire Wizard)
Has pretty high magic dps. Casts a spontaneous combustion spell which sometimes crits over 650k. Many of his spells also crit for over 100k. It's best to keep the group away from the mob.
Gate Uncalling requires him dead. If questing, save this mob until on this quest/step.
Ad blocker interference detected!
Wikia is a free-to-use site that makes money from advertising. We have a modified experience for viewers using ad blockers

Wikia is not accessible if you've made further modifications. Remove the custom ad blocker rule(s) and the page will load as expected.