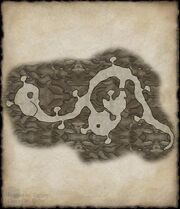 EverQuest II Zone Information
What does this information mean?

short lockout timer; heroic version also available
Description
Edit
A fairly large instance consisting of several passages and caverns, with many encounters of level 35-39, and tough bosses as high as level 40.
There are three different "themes" of monsters, chosen randomly each time you enter: undead, beasts, or gargoyles. All three themes drop the same loot.
Bosses are semi-common; roughly 1 in 3 chance for each boss. Each boss can spawn in several locations. It is possible to see two of the same boss in the same instance.
Entrance
Edit
Undead theme:
Beasts theme:
Gargoyle theme:
See Also
Edit
Ad blocker interference detected!
Wikia is a free-to-use site that makes money from advertising. We have a modified experience for viewers using ad blockers

Wikia is not accessible if you've made further modifications. Remove the custom ad blocker rule(s) and the page will load as expected.