In-Game Examine Window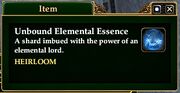 EverQuest II Item Information
Unbound Elemental Essence

A shard imbued with the power of an elemental lord.
 
 
HEIRLOOM
Obtain: [How can I get one?] try LootDB or the linkback
What does this information mean?
This is a rather easily obtained currency that can be exchanged for some very nice level 80 Fabled jewelry at Edric Fyrecog on the Lavastorm docks.
It is obtained through the repeatable quest series starting with Cleansing the Elements.
You can earn 3 of them daily, one from each quest in the Cleansing sequence. Then you must wait for the quest to cooldown (~24 hours).
It takes 15 essences (i.e. 5 days of farming the quest) to buy a single Fabled jewelry.
The quest only becomes available at level 80.
Ad blocker interference detected!
Wikia is a free-to-use site that makes money from advertising. We have a modified experience for viewers using ad blockers

Wikia is not accessible if you've made further modifications. Remove the custom ad blocker rule(s) and the page will load as expected.