In-Game Examine Window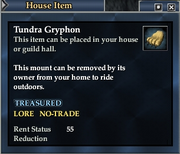 EverQuest II Item Information
Type: House Item
Subtype: Mount

Tundra Gryphon

This item can be placed in your house or guild hall.



This mount can be removed by its owner from your home to ride outdoors.

 
TREASURED
LORE  NO-TRADE
Rent Status
Reduction
55

Obtain: Examining a Tundra Gryphon will give the option to turn it into a house item.
What does this information mean?
Ad blocker interference detected!
Wikia is a free-to-use site that makes money from advertising. We have a modified experience for viewers using ad blockers

Wikia is not accessible if you've made further modifications. Remove the custom ad blocker rule(s) and the page will load as expected.