Ad blocker interference detected!
Wikia is a free-to-use site that makes money from advertising. We have a modified experience for viewers using ad blockers

Wikia is not accessible if you've made further modifications. Remove the custom ad blocker rule(s) and the page will load as expected.
Allied with Karana, Erollisi Marr and Rodcet Nife, and enemies with Bertoxxulous, Tunare, the Mother of All rules the Plane of Growth. Tunare appears as a very attractive older humanoid female wearing flowing robes and a crown of vines and leaves. Tunare is very protective of what she considers to be one of Her finest achievements, the good elf races of Norrath. As part of an agreement with Brell Serilis and Prexus and in response to the arrogance of Veeshan in claiming Norrath for her own, Tunare created the High Elves and the Wood Elves of Norrath. [Source]
Accepting Your Deity
Edit
Your quests begin (and end) with Kurista who incidentally was the same NPC doing the god quest in Antonica. You can find her in Kelethin on the first platform where the Old Acorn Lift is inside a building.
Devotion Quests
Edit
Blessings
Edit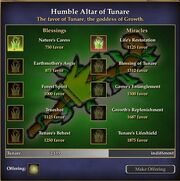 | Blessing Name | Favor | Description |
| --- | --- | --- |
| Nature's Caress | 750 | Healing spells provide a 15% greater healing amount. |
| Earthmother's Aegis | 875 | Elemental Mitigation increase, 20% chance to proc heal when damaged by spell. |
| Forest Spirit | 1000 | Pet Summon : Damage + Group Reactive Heal |
| Trueshot | 1125 | Improves Ranged Skill and Crit Chance, plus summons ammo |
| Tunare's Behest | 1250 | Pet Summon : Damage + Aggro-ripping |
Attributed Creations
Edit