Ad blocker interference detected!
Wikia is a free-to-use site that makes money from advertising. We have a modified experience for viewers using ad blockers

Wikia is not accessible if you've made further modifications. Remove the custom ad blocker rule(s) and the page will load as expected.
In-Game Examine Window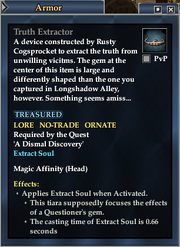 Truth Extractor
A device constructed by Rusty Cogsproket to extract the truth from unwilling victims. The gem at the center of this item is large and differently shaped than the one you captured in Longshadow Alley, however. Something seems amiss...

TREASURED
LORE   NO-TRADE   ORNATE
Required by the Quest
'A Dismal Discovery'
Extract Soul
 
All Adventurers
 
Effects:


Applies Extract Soul when activated.

This tiara supposedly focuses the effects of the Questioner's Gem.
The casting time of Extract Soul is .66 seconds
Obtain: Given to you for the quest A Dismal Discovery.
\aITEM 72426333 1815857184:Truth Extractor\/a \aITEM 72426333 1815857184:Truth Extractor\/a
What does this information mean?