The Item, Location, Quest, Mob or NPC referred to by this page has been removed from EverQuest II.
This article is being retained for historical reasons
Retired after 2011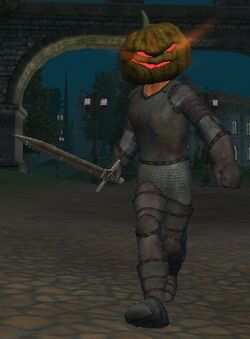 What does this information mean?
Starting the Quest
Edit
Talk to the Gigglegibber Trick-or-Treater:
The goblin told you what he wanted most, what he would accept and what he would not take. You have 10 minutes to get all the candy you can.

You do not get a quest accept window or any entry in your quest journal. Nor do you get a timer clock but this quest is timed!

Right click on any NPC or Guard in North Qeynos or West Freeport and select "Trick or Treat". Some will give you a piece of candy, some will give you nothing, and some will play a trick on you!

The tricks are all traumas which can be cured if you don't want to wait for their short duration to end.
Also, if your PC can zone fast enough, you can visit an adjacent zone for its NPCs as well. Remember, you don't have to report back within 10 minutes, it's 10 minutes to get as much candy as you can!

Return to the goblin and give him the candy for your points. If you score more than 50 you will win a prize. Points for each piece of candy you receive are scored as follows:

Candy he "really wants" = 3
Treats he "wants" = 2
Sweets he'll "take" = 1
Anything he "doesn't want" = 0
If you score more than 50 points you may pick between:
If you score more than 75 points you may pick either:
If you score more than 100 points you may pick one of:
| | |
| --- | --- |
| | This article refers to events, personae and activities only present in-game during the annual Nights of the Dead festivities, which come to Norrath each year from (roughly) mid- to late-October through to early- to mid-November. |
Ad blocker interference detected!
Wikia is a free-to-use site that makes money from advertising. We have a modified experience for viewers using ad blockers

Wikia is not accessible if you've made further modifications. Remove the custom ad blocker rule(s) and the page will load as expected.