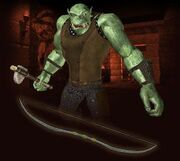 .
What does this information mean?
In order to spawn this named orc, the orc treasure hunters at the end of the nook must be killed. Two more orcs will spawn and attack, and then two more. Finally Treasure Hunter Bakrok will spawn and attack. Any strategy that works against a slightly tougher-than-average orc will work here.
Ad blocker interference detected!
Wikia is a free-to-use site that makes money from advertising. We have a modified experience for viewers using ad blockers

Wikia is not accessible if you've made further modifications. Remove the custom ad blocker rule(s) and the page will load as expected.