In-Game Examine Window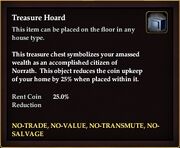 EverQuest II Item Information
Type: House Item

Treasure Hoard

This item can be placed in your house.

This treasure chest symbolized your amassed wealth as an accomplished citizen of Norrath. This object reduces the coin upkeep of your home by 25% when placed within it.
 
NO-TRADE  NO-VALUE
Rent Coin
Reduction
25%

Obtain:
\aITEM -415200680 1777924854:Treasure Hoard\/a \aITEM -415200680 1777924854:Treasure Hoard\/a
What does this information mean?
This item can be purchased for 10 Loyalty Point Tokens, allowing players to place them in multiple Standard houses.
It opens!
The bonuses from having multiple Treasure Hordes does NOT stack. The maximum will only reach a 25% reduction.
Ad blocker interference detected!
Wikia is a free-to-use site that makes money from advertising. We have a modified experience for viewers using ad blockers

Wikia is not accessible if you've made further modifications. Remove the custom ad blocker rule(s) and the page will load as expected.