Ad blocker interference detected!
Wikia is a free-to-use site that makes money from advertising. We have a modified experience for viewers using ad blockers

Wikia is not accessible if you've made further modifications. Remove the custom ad blocker rule(s) and the page will load as expected.
WARNING:This template depreciated, please use Template:SpellInformation2 when updating
| | |
| --- | --- |
|  Casting Time |  10.0 seconds |
|  Recast time |  Instant |
|  Duration |  Until Cancelled |
Effects

Summons a pet Treant Sapling
What does this information mean?

You may upload a JPG or PNG image of the in-game examine window.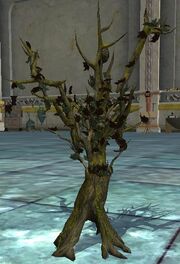 Hailing this pet causes it to bow to you. It does nothing else (the definition of a fluff pet).
Obtain: