Ad blocker interference detected!
Wikia is a free-to-use site that makes money from advertising. We have a modified experience for viewers using ad blockers

Wikia is not accessible if you've made further modifications. Remove the custom ad blocker rule(s) and the page will load as expected.
What does this information mean?
Starting the Quest
Edit
You must complete A Nightmarish Illness first, then re-enter The Hedge Hollow and "save" the gnome by killing the Trained Entinty seen chasing him in the "train" animation that auto-starts when you get close to 1006,819,-564). The "Trained Entinty" spawns in the maze area right past the animation spawn point as you head towards the center of the maze. Kill it, then go to the back side of the house you just passed where the gnome will have now spawned and get the quest.
This quest is repeatable once per day.
Find 4 items:

a journal ( 916, 8, -638 ) 

/waypoint 916, 8, -638

a dolly ( 863, 8, -585 ) 

/waypoint 863, 8, -585

a skull ( 918, 8, -525 ) 

/waypoint 918, 8, -525

a dagger ( 874, 8, -505 ) 

/waypoint 874, 8, -505

Return to the terrified gnome
Choice of:
Not available in 2016 (but can be purchased from A Nights of the Dead merchant):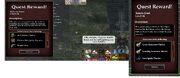 | | |
| --- | --- |
| | This article refers to events, personae and activities only present in-game during the annual Nights of the Dead festivities, which come to Norrath each year from (roughly) mid- to late-October through to early- to mid-November. |