Ad blocker interference detected!
Wikia is a free-to-use site that makes money from advertising. We have a modified experience for viewers using ad blockers

Wikia is not accessible if you've made further modifications. Remove the custom ad blocker rule(s) and the page will load as expected.
In-Game Examine Window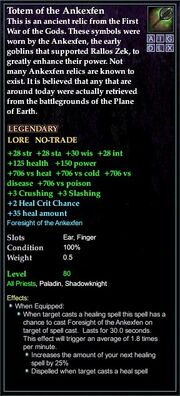 Totem of the Ankexfen
This is an Ancient relic from the First War of the Gods. These symbols were worn by the Ankexfen, the early goblins that supported Rallos Zek, to greatly enhance their power. Not many Ankexfen relics are known to exist. It is believed that any that are around today were actually retrieved from the battlegrounds of the Plane of Earth.

LEGENDARY
LORE   NO-TRADE

+28 str

+30 wis

+28 int

+28 sta




+125 health

+150 power


+706 vs elemental +706 vs noxious
+3 Crushing +3 Slashing

2% Crit Chance
+35 Ability Modifier

Foresight of the Ankexfen
 
Slots
Ear, Finger
Level
80 (Tier 9)
All Priests, Paladin, Shadowknight
 
Effects:


When Equipped:

When target casts a healing spell this spell has a chance to cast Foresight of the Ankexfen on target of spell cast. Lasts for 30.0 seconds. This effect will trigger an average of 1.8 times per minute.

Increases the amount of your next healing spell by 25%
Dispelled when target casts a heal spell
Obtain: Reward from the collection quest, Standards of the Goblin Tribes.
\aITEM 733583127 1356004522:Totem of the Ankexfen\/a \aITEM 733583127 1356004522:Totem of the Ankexfen\/a
What does this information mean?