Ad blocker interference detected!
Wikia is a free-to-use site that makes money from advertising. We have a modified experience for viewers using ad blockers

Wikia is not accessible if you've made further modifications. Remove the custom ad blocker rule(s) and the page will load as expected.
What does this information mean?

Tools of the Trade is part 2 of a line of quests that is given to you by the dwarf Thadus Flintwrit in the Darklight Wood. He is located next to the camp fire in the Wanderlust Fair.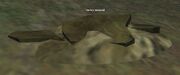 Seek out more evidence of the dwarven crafters having built the tower

Collect 3 dwarven stone working tools from around the Tower of Bone.

rocky mounds ( 628, -21, 261 ) 

/waypoint 627.73, -20.59, 261.37

loose rock ( 490, -35, 194 ) 

/waypoint 490, -35, 194

gnarled vines ( 587, -23, 269 ) 

/waypoint 587, -23, 269

Return to Thadus