You may upload a JPG or PNG image of the in-game examine window.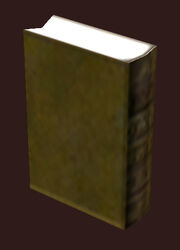 EverQuest II Item Information
What does this information mean?
You may upload a JPG or PNG image of the in-game examine window.
Sold by Erben Delki or Distun Delki for 1 Ancient Platinum Coin during the annual Chronoportal Phenomenon event.

| | |
| --- | --- |
| | This article refers to events, personae and activities only present in-game during the annual Chronoportal Phenomenon towards the end of March. |
Book Text
Edit
[Page 1]

"We've made it past the kobolds and the
spiders. Everything here is quite aggressive,
and equally strong. We were coordinated,
however, and were able to defeat each of the
enemies we encountered. Although our plan
is to bring many more strong adventurers
through here, we will want to warn them to
mind the creatures found here - carelessness
will cost lives."

[Page 2]

I've approached what appears to be a giant
stone structure, like a castle. To our surprise
it appearsto be guarded by a race of fire giants
which none of us are eager to fight. However,
if we're going to get the information we need
to confront the dragon, we will need to find a
way around. We've been watching for guard
shifts, or sleeping patterns...something to
give us an opening."

Ad blocker interference detected!
Wikia is a free-to-use site that makes money from advertising. We have a modified experience for viewers using ad blockers

Wikia is not accessible if you've made further modifications. Remove the custom ad blocker rule(s) and the page will load as expected.