Ad blocker interference detected!
Wikia is a free-to-use site that makes money from advertising. We have a modified experience for viewers using ad blockers

Wikia is not accessible if you've made further modifications. Remove the custom ad blocker rule(s) and the page will load as expected.
In-Game Examine Window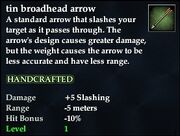 EverQuest II Ammo Information
Tin broadhead arrow




A standard arrow that slashes your target as it passes through. The arrow's design causes greater damage, but the weight causes the arrow to be less accurate and have less range.


HANDCRAFTED

 
Damage
+5 Slashing
 
Range
-5 meters
 
Hit Bonus
-10%
 
 
Level
1 (Tier 1)
 
Obtain: Artisan-crafted using a level 4 recipe from artisan essentials volume 4.