Ad blocker interference detected!
Wikia is a free-to-use site that makes money from advertising. We have a modified experience for viewers using ad blockers

Wikia is not accessible if you've made further modifications. Remove the custom ad blocker rule(s) and the page will load as expected.
In-Game Examine Window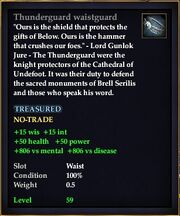 Thunderguard waistguard
"Ours is the shield that protects the gifts of Below. Ours is the hammer that crushes our foes." - Lord Gunlok Jure - The Thunderguard were the knight protectors of the Cathedral of Undefoot. It was their duty to defend the sacred monuments of Brell Serilis and those who speak his word.

TREASURED
NO-TRADE

+15 wis

+15 int




+50 health

+50 power


+806 vs noxious +806 vs arcane

 
Slot
Waist
Level
59 (Tier 6)
 
Obtain: Reward from the quest "A Couple Ringlets Missing" in Kaladim.
What does this information mean?