In-Game Examine Window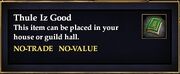 EverQuest II Item Information
\aITEM -1525032447 -338473689:Thule Iz Good\/a \aITEM -1525032447 -338473689:Thule Iz Good\/a
What does this information mean?
Book Text
Thule Iz Good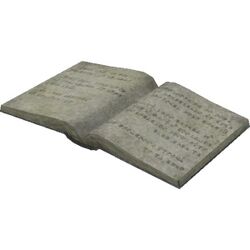 | | |
| --- | --- |
| Author: | Ragnud Stomprr |
| Style: | Open Book |
| LootDB Link: | LootDB |
Thul Iz Good
Ragnud Stomprr
Long war, long long war, ogre fight for Zek. Stoopid ogre. Many ogre die, many ogre week.
Green myst came. Green myst kiled al stoopid ogre whu fight for Zek.
Sum ogres do not di. Sum ogres watch al uthers di. Thule cume to ogres.
Thule say ogres get power. Power to say no to Zek and say yes to Thule.
Ogres not stoopid. Ogres say yes. Ogres serve Thule, not Zek. Ogres get green, but ogres not die. Ogres get power.
Ogres like the power of the green. Green is pritti. Ogres like Thule.
Thule iz good.
The information below has been verified with in-game data and the information on this page is correct, even if it looks stupid or makes no sense.
---
Fact: Ogre spelling leaves a lot to be desired.