What does this information mean?
This is the start of the two-part access quest you need to get to the Terror (lvl 75 epic x2) for Guardian and Monk Epic wepons. You need to kill all of the fetid fiends around each bone tower to spawn each named. If you don't get the message "You feel a presence nearby", then some fiends are left. Once the nameds are defeated you have to loot Heart of Fear and Corrupted Mind from the skull in the middle of each tower.
NOTE: The Heart of Fear and Corrupted Mind are TEMPORARY NO-ZONE, so if you zone out, or camp out, you will need to revisit the towers to pick them up again.
NOTE: The
Heart of Fear
and
Corrupted Mind
are collected from a ground spawn, that looks like the thumbnail to the right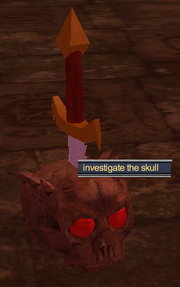 Kill The Skeletal Destructor (74^^^): follow the road from Fear Gate to the east, and find the tower off to the right of the road in Scareling Bogs, at ( -219, 32, 419 ) 

/waypoint -219, 32, 419

Ground Spawn Appears after death, click to receive

Kill The Skeletal Master (74^^^): the first one you come across, near the goggles in the Swale of Viscera. The location is ( 290, 17, 323 ) 

/waypoint 290, 17, 323

.

Ground spawn appears after death, click to receive

Kill The Skeletal Lord (74^^^): take the road from Fear Gate northwest, bear right when it forks and follow it to the fire wall. Turn left and you'll find it in Terrock's Bite, at ( 210, 11, -273 ) 

/waypoint 210, 11, -273

Ground spawn appears after death, click to receive:

"In his journal, Gimblelock spoke of the Amygdalan sculpture wells, they may have some significance"

Pick up a torn paper on the ground:

( 208, 60, 23 ) 

/waypoint 208, 60, 23

( -247, 15, 212 ) 

/waypoint -247.39, 15.41, 211.98

(near the Thulian Triskele at ( -297, 21, 189 ) 

/waypoint -297, 21, 189

)