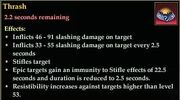 EQ2: Monster Spell Information
| | |
| --- | --- |
|  Casting Time |  Instant |
|  Recast time |  Instant |
|  Duration |  Instant |
Effects:
Inflicts 46 - 91 slashing damage on target
Inflicts 33 - 55 slashing damage on target every 2.5 seconds.
Stifles target
Epic targets gain an immunity to Stifle effects of 22.5 seconds and duration is reduced to 2.5 seconds.
Resistibility increases against targets higher than level 53.
What does this information mean?
Ad blocker interference detected!
Wikia is a free-to-use site that makes money from advertising. We have a modified experience for viewers using ad blockers

Wikia is not accessible if you've made further modifications. Remove the custom ad blocker rule(s) and the page will load as expected.