Ad blocker interference detected!
Wikia is a free-to-use site that makes money from advertising. We have a modified experience for viewers using ad blockers

Wikia is not accessible if you've made further modifications. Remove the custom ad blocker rule(s) and the page will load as expected.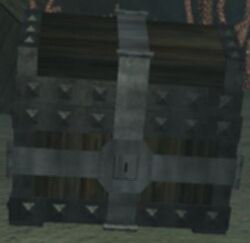 EverQuest 2 Quest Information
Journal Category
Greater Faydark
Journal Level
6 (Tier 1)
Journal Difficulty
Solo
Starting Zone
Greater Faydark more
How to Start
Find a bottle on the beach at ( -370, -70, -922 ) 

/waypoint -369.71, -70.29, -922.04

and uncork it
What does this information mean?
Description
Edit
"I found a bottle with a piece of paper in it on the beach in Greater Faydark. The piece of paper turned out to be three short journal entries from a Captain who accidentally hired pirates to be his crew. They, of course, took over his ship and somehow managed to run it aground here. The journal entries mentioned a chest. If I can find it I might be able to claim the treasure." --Everquest II Journal
Find the chest by the shipwreck at ( -402, -80, -918 ) 

/waypoint -401.91, -79.53, -917.62

and examine it
Find the remains of the captain at in the water near the shore to the South at ( -330, -76, -689 ) 

/waypoint -330.05, -76.45, -689.24

Return to the chest by the shipwreck at ( -402, -80, -918 ) 

/waypoint -401.91, -79.53, -917.62

and open it
Conclusion
Edit
"I found the chest and key. When I opened it, there was a treasure of oranges, lemons, and limes in it. The purpose of the fruit was to prevent scurvy, I suppose." --Everquest II Journal
At least 1s 75c
Experience
One of the following: