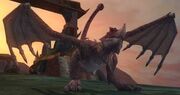 .
EverQuest II Named Monster Information
Zone (Patch)
Skyshrine: The Underdepths (LU63)
Race
Wyvern
Level
98▲▲▲ Tier 10 Heroic , (Approx. HP: 23.500.000)
Location
2nd boss room
Reported Drops
Melee Attacks
Slash/Poison
Special Attacks

Trample (Crushing)
Savage Goring (Poison/Slashing)
Slaughter (Slashing/Poison)
Elemental Sundering (Heat)

AA Exp
Yes
Status Points
unknown
What does this information mean?
Theldek is leashed in the room so tank him in one of the far corners. At around 75%, 50%, and 25% a large number of drakes spawn. These drakes can be ignored with high enough DPS but it is suggested that the group stop DPS on Theldek the Stinger when the adds spawn. Then continue DPS on the boss after all adds are down. If you have good aoe dps, it may be easier to ignore the adds and focus on the mob. If you kill all of his adds they only add up to a couple of million so they are easy to kill.
Theldek will stun the group from time to time and you will be unable to cast, sometimes it coincides with his add spawning. With that in mind, make sure to keep the tank healed and buffed. Theldek will fear when low on health and because of his leash, he may reset if you run off too far. Pretty much tank and spank encounter.