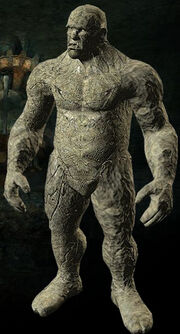 .
What does this information mean?
Every 20% it summons an infused effigy. As a Brigand I was unable to take down the mob fast enough without killing the adds first. When the adds are summoned, the mob roots you also and sucks down your power. I found it easiest to pull the mob back into the tunnel to avoid getting stuck on the debris on the floor.
Advanced Solo
Edit
Same as solo version, just stand on your right leg only
Same as above, just sing a song while killing in addition.