In-Game Examine Window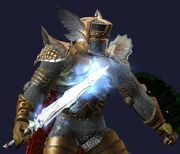 The Truth of Marr

MYTHICAL
LORE  NO-TRADE

+52 str

+24 agi

+32 wis

+24 int

+42 sta




+295 health

+275 power


+10 Slashing

6% Crit Chance
+100 Ability Modifier

Marr's Favor
Holy Avenger
Touch of Life
 
Sword
One-Handed Slashing
Damage
109-617                  (120.9 Rating)
Delay
6.0 seconds
Level
80 (Tier 9)
Paladin
 
Effects:


When Equipped:

When target casts a spell this spell has a 9% chance to cast Marr's Favor on caster. Lasts for 15.0 seconds.

Increase the healing and damage of the spells by up to 50% of your total wisdom.

On a successful attack this spell has a chance to cast Marr's Fury on target of attack. This effect will trigger an average of 3.0 times per minute.

Inflicts 693-846 divine damage on caster.

This spell can not be modified except by direct means
Applies Holy Avenger when activated. Lasts for 24.0 seconds.

Summons a Holy Avenger that transfers life from surrounding enemies to your allies.

When Equipped:

Reduces all physical damage done to target by 10%
When the Paladin takes damage they will heal themselves for 10% of the damage amount.
Obtain: Reward from the quest "Acts of Contrition."
\aITEM 1771025486 1998801301:The Truth of Marr\/a \aITEM 1771025486 1998801301:The Truth of Marr\/a
What does this information mean?
This item is a reward from one of the Epic Quests introduced with Game Update 42.
See the item's Obtain field for the particular quest that rewards this item.