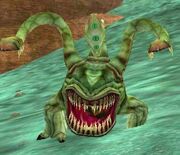 .
What does this information mean?
he will appear once the room is cleared of evil eyes.
sometimes you will get red text "I shall faze into your soul!", which will after like 5 seconds instantly kill the group unless everyone jousts away.
when he says "I've got my eye on you!" he changes targets. Tanks prepare to snap.
Ad blocker interference detected!
Wikia is a free-to-use site that makes money from advertising. We have a modified experience for viewers using ad blockers

Wikia is not accessible if you've made further modifications. Remove the custom ad blocker rule(s) and the page will load as expected.