The Shadow Odyssey is also known as LU50. For the complete patch notes, see LU50

The Shadow Odyssey is the fifth expansion for Everquest 2, released on 18th of November 2008. It contains content intended for levels 50-80. The expansion also gives access to all previous released expansions and adventure packs.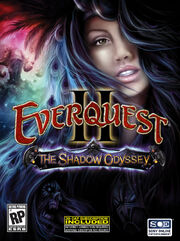 Getting to the new overland zone
Edit
The expansion introduces a new overland zone, Moors of Ykesha, which can be accessed by an airship from the D.I.R.T.Y. camp in The Sinking Sands. There is also a Sorcerer spire ( 1767, 453, 735 ) /waypoint 1767, 453, 735 and a Druid ring ( 1758, 448, 980 ) /waypoint 1758, 448, 980, north and south end, respectively, on the Dropship Landing Zone where the airship docks.
Persistant group instances
Edit
Located in Moors of Ykesha
Ruins of Guk - Take the balloon from Firmroot Moot to the Entrance of Guk (level 80+)
The Void (level 80+)
Located in The Commonlands near the Hidden Canyon griffon tower
Scales from level 50 to 90
Located in Everfrost within the tunnel introduced in LU47
Scales from level 50 to 90
Located in Lavastorm head left after the first tunnel
Scales from level 50 to 90
Located in Loping Plains inside a crypt in the Somborn Cemetary
Scales from level 70 to 90
Located in Fens of Nathsar
Level 80+
"
To give you an idea of how I rate them, I did Runnyeye 2 and I would rate that Easy to Moderate difficulty.
"
 

— Kander (SOE Dev)
"
Keep in mind when we say easy that doesn't mean that the entire zone will be easy. That means it should be the easiest to figure out the strategies. They should still be challenging and over time you will figure them out and you will see they are actually fun to run through.
"
 

— Gninja (SOE Dev)
Persistant raid instances (sorted by difficulty of first named mob)
Edit
The Shadow Odyssey Feature Set:
Tradeskilling
Edit
For new crafting related stuff included in TSO see TSO Tradeskill Timeline
References
Edit
Subcategories
This category has the following 14 subcategories, out of 14 total.
Pages in category "The Shadow Odyssey"
The following 70 pages are in this category, out of 70 total.
A

B

C

D

E

F

G

H

J

L

M

N

O

P

R

R cont.

S

T

U

V

W

Y

Z
Ad blocker interference detected!
Wikia is a free-to-use site that makes money from advertising. We have a modified experience for viewers using ad blockers

Wikia is not accessible if you've made further modifications. Remove the custom ad blocker rule(s) and the page will load as expected.