What does this information mean?
While this quest is no longer required to enter Gobblerock's Hideout, it is still required for permanent access.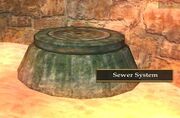 Click on the Sewer System grate in the tower north of The Lonely Tower at ( -1415, -70, 234 ) 

/waypoint -1415, -70, 234

. The quest completes as you zone in.