What does this information mean?

This quest is a substep 13d of the quest Undead Censership in The Peacock Club Timeline
You now have 5 minutes to push 4 buttons. Bug: the timer vanishes after the last switch is activated, however it is still ticking
Up the ramp across from the first pool on the left pillar ( -271, 17, 94 ) 

/waypoint -271, 17, 94

Left side of the building with the dark elf ( -336, 1, 155 ) 

/waypoint -336, 1, 155

Half way up the climbable wall right of the first pool ( -306, 9, 174 ) 

/waypoint -306, 9, 174

. Hop off the wall to stand on TOP of the switch to reach it.
On the right side of the building west of the pool ( -99, 13, 73 ) 

/waypoint -99, 13, 73

Inspect the hidden compartment again
Note : As of 2/14/2015, this guide is out of order at least, with most of the buttons reported not working. Note2: As of 3/08/2015, They worked for me have to pay attention though 2 of the buttons are close to the other quests buttons.
This map shows a working path to complete this run in time. Follow the paths in this order: White, Green, Blue, Red (switches 2, 4, 3, then 1)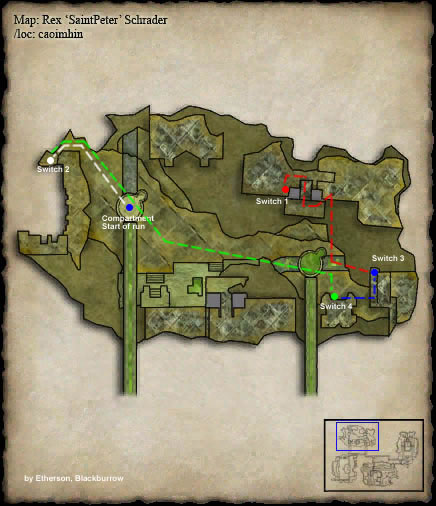 Ad blocker interference detected!
Wikia is a free-to-use site that makes money from advertising. We have a modified experience for viewers using ad blockers

Wikia is not accessible if you've made further modifications. Remove the custom ad blocker rule(s) and the page will load as expected.