What does this information mean?

This quest is a substep 13b of the quest Undead Censership in The Peacock Club Timeline
You now have 5 minutes to push 6 buttons. BUG: the timer vanishes after the last button is pushed, however it is still ticking

On the left side of the roof of the building across the street from the oily wall ( -302, 17, 491 ) 

/waypoint -302, 17, 491

On a pillar at the street right under the previous switch. ( -308, -10, 493 ) 

/waypoint -308, -10, 493

3/4 up the oily wall at the end of the ledge on the right side ( -358, 12, 500 ) 

/waypoint -358, 12, 500

(Make sure you have already completed the quest: A Slippery Situation first by examining the wall)
Behind the tree ( -381, -10, 487 ) 

/waypoint -381, -10, 487

Left side of the building by the snakepit ( -533, -18, 456 ) 

/waypoint -533, -18, 456

On first climbable wall if you enter from trade court ( -481, 3, 372 ) 

/waypoint -481, 3, 372

. You may need to jump off the wall and stand on TOP of the switch in order for it to update.

Reexamine the hidden compartment
the Canopic of Du'Mutef (update for Undead Censership)
This shows the location of the 6 switches for this run.
Please note that the order in which you click them doesnt matter.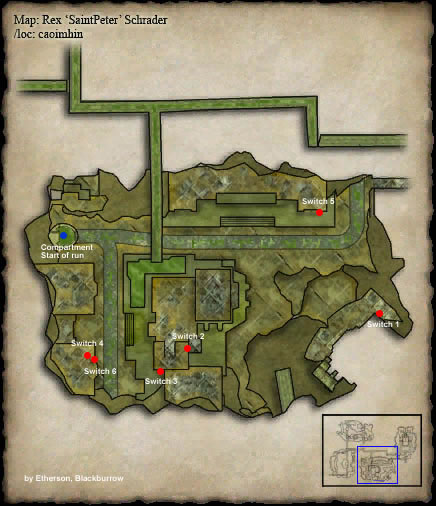 Ad blocker interference detected!
Wikia is a free-to-use site that makes money from advertising. We have a modified experience for viewers using ad blockers

Wikia is not accessible if you've made further modifications. Remove the custom ad blocker rule(s) and the page will load as expected.