What does this information mean?
Prerequisites
Edit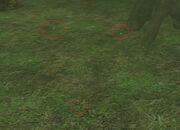 Equip the firefly net Grepp gives you in one of your charm slots.
Roam the zone looking for fireflies, watching specifically for the message "You hear the gentle hum the fireflies." (Use ultravision, infravision or tinkering tools to help see them.)
When you see hear the fireflies (typically small swarms near trees throughout the zone), activate the net to catch them. You need to catch three swarms of them.
Speak with Grepp to complete the quest.