What does this information mean?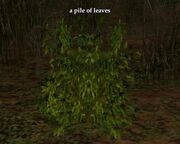 Harvest five of Beechlilly's leaves. These are ground spawn harvest nodes around Spirit Lake.

You may have to wait for some of the harvest nodes to respawn, which only takes a couple of minutes.
They are very hard to see until you're very close to them, but they are tabbable and easy to find that way.

Return to Birchbark
Ad blocker interference detected!
Wikia is a free-to-use site that makes money from advertising. We have a modified experience for viewers using ad blockers

Wikia is not accessible if you've made further modifications. Remove the custom ad blocker rule(s) and the page will load as expected.