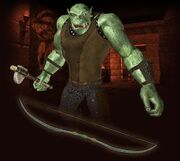 .
What does this information mean?
When you start the fight, 2 potions appear on the table : a red and a blue one. The red does 2% damage on the mob and takes 15% mana from the caster + it requires 108 power to cast. The blue does 25% damage on the caster and gives 25% mana to the caster When a red potion is cast (a long cast), the boss will aggro a lot the caster. Make the tank cast alternatively the red then the blue potion. If you have a regen mana, just use the red one. When the boss speaks he puts a poison debuff on a random group member, this must be cured or it kills the player. Anyone in melee range will be power drained... healers especially should range it.
Ad blocker interference detected!
Wikia is a free-to-use site that makes money from advertising. We have a modified experience for viewers using ad blockers

Wikia is not accessible if you've made further modifications. Remove the custom ad blocker rule(s) and the page will load as expected.