In-Game Examine Window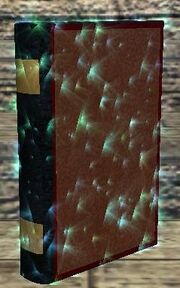 EverQuest II Item Information
Type: House Item
Subtype: Book

The Riddlemaster's Tome

This magical tome was awarded to the owner for quick witted riddle-solving.
 
NO-TRADE  NO-VALUE

Obtain: Given by guides for winning a riddle game.
\aITEM -1806484482 1728604742:The Riddlemaster's Tome\/a \aITEM -1806484482 1728604742:The Riddlemaster's Tome\/a
What does this information mean?
Book Text
Edit
The Riddlemaster's Tome

I.
At night they come without being fetched
And by day they're lost without being stolen.

II.
Runs over fields and woods all day
Under the bed at night sits not alone,
With long tongue hanging out,
A-waiting for a bone.

III.
Round as a marble, blue as the sea,
Unless I am brown or green maybe.
Smile at me and I shine from my pane,
Frown at me and down comes my rain.

IV.
I never was, am always to be,
No one ever saw me, nor ever will,
And yet I am the confidence of all
Who live and breathe on this global ball.


Answers
I. Stars
II. A shoe
III. An eye


IV. Tomorrow
Ad blocker interference detected!
Wikia is a free-to-use site that makes money from advertising. We have a modified experience for viewers using ad blockers

Wikia is not accessible if you've made further modifications. Remove the custom ad blocker rule(s) and the page will load as expected.